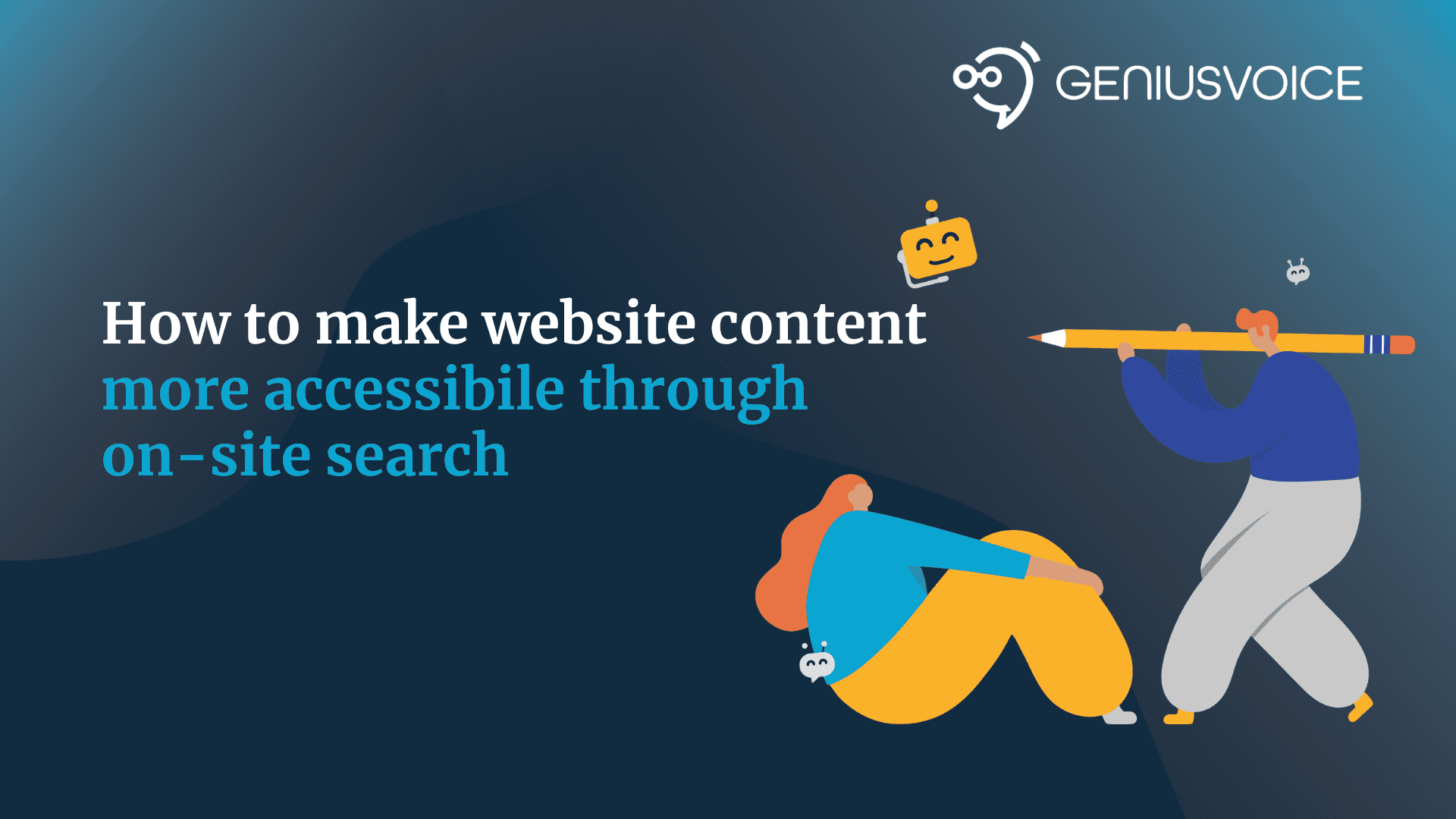 With lots of content and data on your website, making it easily accessible for every user is hard. Although you can arrange your content in several categories within your navigation bar, many people still have trouble locating the specific and relevant information they need. So how can you improve the accessibility of content on your website through on-site search?
Location and appearance
To successfully increase the usage of your search bar, it's important to look at your website's current visual design. Simply put, users will be more interested in using your search bar if it is visible and straightforward to use.
Where is your search function located on your website? - Is it in the top left corner or center of your navigation bar? How are you displaying your on-site search feature? - Is it an actual search bar where users can enter their search query, or is it displayed with a small search icon?
Considering these questions you should ask yourself when making these aesthetic improvements to your website, your search function should ideally be visible as a search bar above the fold in your website. Not only will this ensure that your users can access your on-site search, but it will also guarantee that they can find it easily.
Include keyboard users and screen readers
Many websites forget to optimize the location of their on-site search function for users that only use a keyboard to navigate. To make sure that your search bar is accessible to everyone, locate the search bar where screen readers can easily detect it on your website.
When navigating via keyboard or screen reader, the tab button is frequently required to get to the particular website area you are looking for. Therefore, placing your on-site search bar above the fold and as one of the first elements to appear on your website will welcome and include all users to access your content via search.
Add inspiration
Adding inspiration is a great way to motivate website visitors to use your on-site search feature. Not only does the simple question of "What are you looking for?" in your search bar draw attention to your search feature but it also reminds the user that there is an easy way to access information when searching for something specific.
Next to an open-ended question, you can also mention search examples in your search bar. By simply adding "Search for upcoming events" you can also draw attention and inspire users to use your search bar.
Leverage the no results page
Everyone knows that it can be frustrating when you cannot find what you are looking for. That is why it is important to ensure that you assist your website visitors when asking for specific information.
Instead of just displaying "your search was unsuccessful" or "your results could not be found" on your results page, be sure to include a contact form where users can directly tell you what they are searching for. By doing this, you can offer your users support and therefore reduce some of their frustration when they cannot find what they are looking for.
Add suggestions
When a user's search is unsuccessful, you are alternatively able to offer further search suggestions. These can be related keywords but also related content to the specific search query the user entered. Here, the user will be encouraged to give the search another try using different keywords and might be successful.
Additionally, looking through suggested content briefly related to your website visitors' search might inspire them in finding information or a different solution to another problem.
Update your search engine!
Awareness of the most recent technological breakthroughs is essential when enhancing your website's on-site search function to make its material more accessible. Implementing technological advances with new and helpful features on your website will benefit your users.
Regarding the newest search engine technology, semantic search is known as the latest breakthrough in natural language search because it makes the experience more intuitive. Additionally, it can handle spelling errors and synonyms while suggesting related topics right out of the box.